Well, I found a fire truck on CL that the lights worked and the motors didn't. I immediately figured it was the circuit board, so I could just wire around it and flip it. I got there, and the lady said she had a new circuit board (The new style doesn't have the same connector as this older version, so they couldn't figure out how to fix that). Said she had a new battery too, but it just wouldn't work and they needed garage space. She even had a receipt for the circuit board from a month ago, so her story of trying a battery, then trying a new board made sense to me.
I talked her down from $75 to $40 (Which was under the assumption that the battery was a month old), and told her she could keep the CB to return to KT if they let her.
Got home, tested the battery, it's bad.
NEVER AGAIN WILL I FALL FOR THAT :evil:
. I put my 12V battery in, and the whole truck works. Either she bought a bad battery, or they never actually tried a good one...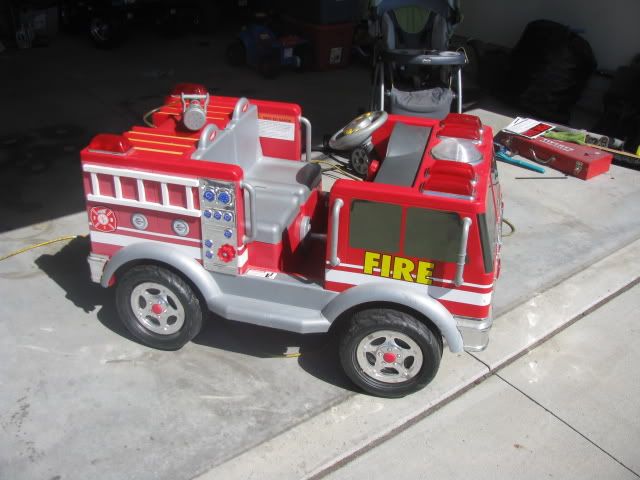 So I figured, well, I can still just re-spray the truck real quick, then flip. Quick $120 for me after $40-50 in paint. Not so fast. I dumped the truck off in the garage, and went to pick up my son who is 22 months old (you all should know where this is going). We come home and I open the door, and he says "Daya. A cuck (truck). DAYA!". So we're keeping it :lol:. The neighbor is a fire fighter, and brought the truck the neighborhood the prior weekend, and he's been obsessed with them since. He sat in it for over an hour and played with the buttons while I was picking stuff up.
So now my plans for the truck are as follows:
Replace stock LEDs with Red 2x22 Strobes. (3 sets) Link:
http://www.iwill2sellmore.com/goods-3.html
Install headlights using white 2x22 Strobes. (1 set) Link:
http://www.ebay.com/itm/251107452554
Repaint the entire truck, and get new Vinyl stickers for the window.
http://www.ebay.com/itm/25-Wide-Black-C ... 4aa84ac2c9
I'm planning on making new decals that match the WDM FD decals on their truck using the bumper sticker paper that gwinny is endorsing.
For the LEDs, I'm going to have a SPST switch that will power the strobes on, a momentary switch that will change their pattern, and a switch for the headlights to stay on all the time. If the switch for the strobes is on, then the headlights will strobe with them. Haven't gotten the wiring figured out yet, but will work on that when the time comes. Still waiting on the LEDs from china.